IMPLEMENTASI PROGRAM KELUARGA BERENCANA DI PUSKESMAS SIMPANG BARU KOTA PEKANBARU TAHUN 2020
IMPLEMENTATION OF THE FAMILY PLANNING PROGRAM AT THE SIMPANG NEW PUSKESMAS, PEKANBARU CITY IN 2020
Keywords:
Implementasi, Program KB, Puskesmas
Abstract
Keluarga Berencana (KB) adalah  upaya mengatur kelahiran anak, jarak usia ideal melahirkan, dan mengatur kehamilan melalui promosi perlindungan dan bantuan sesuai hak reproduksi untuk mewujudkan keluarga berkualitas serta mewujudkan norma keluarga kecil bahagia dan sejahtera yang menjadi dasar bagi terwujudnya masyarakat yang sejahtera melalui pengendalian kelahiran  dan pengendalian pertumbuhan. Permasalahan yang ditemukan di Puskesmas Simpang Baru untuk Program Keluarga Berencana ialah masih kurang memadai nya sumber daya manusia, sarana prasarana serta penyuluhan yang masih kurang merata. Tujuan penelitian adalah untuk mengetahui pelaksanaan Program Keluarga Berencana di Puskesmas Simpang Baru tahun 2020. Jenis Penelitian ini adalah penelitian kualitatif dan metode penelitian  deskriftif. Subjek Penelitian yaitu Kepala Puskesmas, Pemengang Program KIA/KB, Bidan, Akseptor KB. Pengumpulan Data dilakukan dengan wawancara mendalam berikatan dengan program Keluarga Berencana di Puskesmas,penelusuran dokumen, dan observasi.  Hasil Penilitian ini menunjukan Masih kurangnya Sumber Daya Manusia di Puskesmas serta Sumber Daya Manusia di dalam Program Keluarga Berencana lalu  masih belum tersedianya  sarana prasarana seperti  meja litotomi dan meja steril lalu masih kurang merata penyuluhan yang dilakukan oleh pihak Puskesmas yang dapat menghambat pelaksanaan Progran didalam Puskesmas . Saran dari penelitian ini adalah perlu nya penambahan Tenaga Kesehatan serta penambahan sarana prasarana di dan penyuluhan yang secara merata.
Family Planning is the effort to manage the child birth, the space of delivery ideal age, and manage the pregnancy through protection promotion and assistance in accordance with the reproduction right to achieve quality family and to create happily small and prosperous family which becomes the basic of wealthy community through the birth control and growth control. The problem found at Communith Health Center Simpang Baru for its Family Planning Program still has less adequate human resources, less facilities, and less socialized of  Family  Planning  Program. The aims of this study are to know the implementation of Family Planning Program at Communith Health Center (Puskesmas) Simpang Baru in 2020. The type of this research was qualitative research and descriptive research method. The research subject was the head of Communith Health Center (Puskesmas), the holder of KIA/KB Program, and Acceptor of KB. Data collection was conducted through deep interview related to Family Program Planning at Communith Health Center (Puskesmas), document search, and observation. The results of this research show that the human resources at Communith Health Center (Puskesmas) are still less adequate, and the facilities such as table for lithotomy and sterile table are not provided, and less evenly distributed socialization of Family Planning conducted by Communith Health Center (Puskesmas) party which can inhibit the implementation of the program at the Communith Health Center (Puskesmas) itself.
Downloads
Download data is not yet available.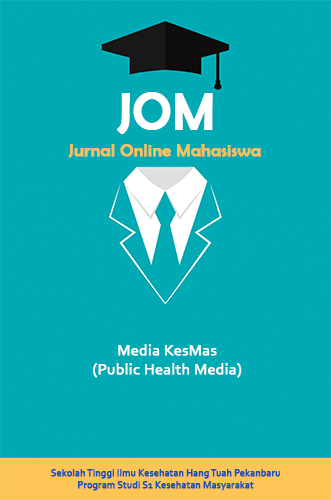 Copyright & Licensing
Copyright (c) 2021 Media Kesmas (Public Health Media)
This work is licensed under a Creative Commons Attribution-NonCommercial-ShareAlike 4.0 International License.